Location: Morristown, NJ, New Jersey, United States 
Job ID: 63359 
We Elevate... You
Our mission is to keep cities and people around the world moving. Since 1874 Schindler has an outstanding reputation for not only elevating buildings, but the well-being of everyone who lives and works in them. Do you have the talent, ambition, and vision to help us elevate tomorrow's world?
 
Find out more about us here - Company Website or LinkedIn
As a leading employer in the urban mobility industry, we are always looking for a diverse group of people who can create exceptional value for our customers.
Join us as a
Codes and Standards Officer
Your Skills
Position Overview: 
Support of the corresponding department in the introduction of released codes and standards, and their adaptation to technical solutions, as well as technical approvals in individual cases.
Essential Functions:
Work with a cross functional team (R&D / NI / EI / MOD / ESC / etc.) to ensure code compliance across all platforms.

To all relevant revisions and versions of North American code.

Work with integrated product development team with strategic test planning to ensure code compliance.

Work with R&D on creation and review of code compliance documentation.

Ensure timely documentation and test results are reported to design teams, management, and quality review boards.

Manage R&D requirements for new product development as it pertains to code compliance.

Responsible for reviewing and analyzing R&D data, reports and presentations and providing results in a timely manner to code group.

Develop Code Spec for new additions of ASME A17.1, Building Code and NFPA. Coordinate all code committee activity and provide regular updates to engineering departments regarding code changes, implementation, effectivity, and interpretations.

Develop improved processes and methods for efficient communication and confirmation of code compliance of new and existing products.

Actively join and establish relationships with ASME code committees and NEII personnel.

Work effectively with all internal and external stakeholders to ensure product safety and code compliance is achieved.

Operate within facility and company safety policies.

Coordinate all engineering results to manager and local code officers.
Your Experience
Requirements:
Experience in new product development and / or product change processes - 5+ years of experience.

Experience in the elevator industry with extensive product knowledge - 8+ years of experience.

Experience and understanding of elevator codes, including but not limited to, ASME A17.1 / Building / NFPA / ADA requirements.

Previous testing, analysis, and reporting to meet company performance, engineering, quality requirements and national / international standards & codes.

The candidate is required to have a sound understanding of engineering principles, basic mechanical and / or electrical design, and an understanding of basic fabrication and assembly.

Proficiency with MS Excel, Word, and PowerPoint are required.

Clear, concise communication abilities.

Must be a process and safety oriented individual.

Organized, efficient, and comfortable working with a sense of urgency.
Our Commitment
To Your Future: Fully-vested 401k match (up to 7% of total compensation)
To Your Health: Competitive Medical, Dental and Vision Plans - All benefits effective from first day of hire
To Your Wellness: Generous Paid Time Off (All employees start with 3 weeks of vacation which then increases with tenure in addition to sick days, floating holidays and 8 Company Observed Holidays)
To Your Education: Tuition Reimbursement (Eligible after 6 months of service)
To Your Family: Parental Leave – 100% base pay for 6 consecutive weeks within first year of a child's birth or adoption. Partnership with Maven Milk to ship breast milk for employees traveling on Schindler business
Will you join us and elevate tomorrow's World?
We look forward to receiving your complete online application.
For questions, please contact Stewart Andrew Esterbrook, (+1) 8623861687
At Schindler Group we value inclusion and diversity, and practice equity to create equal opportunities for all. We endeavor that all qualified applicants will receive consideration for employment without regard to age, race, ethnic background, color, religious affiliation, union affiliation, gender, gender identity, sexual orientation, marital status, national origin, nationality, genetics and health, disability or veteran status.
If you would like assistance with the application process for this position, please contact the recruiter highlighted above who will be happy to help.
br>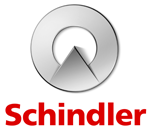 Apply now »