Location: Morristown, NJ, New Jersey, United States 
Job ID: 63782 
We Elevate... You
Our mission is to keep cities and people around the world moving. Since 1874 Schindler has an outstanding reputation for not only elevating buildings, but the well-being of everyone who lives and works in them. Do you have the talent, ambition, and vision to help us elevate tomorrow's world?
 
Find out more about us here - Company Website or LinkedIn
As a leading employer in the urban mobility industry, we are always looking for a diverse group of people who can create exceptional value for our customers.
Join us as a
Quality Director
Your Skills
Value Chain Organization:
Ensure compliance with all Quality process in collaboration with zone and group functions, group & local suppliers, and Schindler's plants

Ensure compliance & execution of Quality Checks effectively, based on SCQ Requirements for plant and MPEX for field operation - elevators and Escalators

Drive improvement programs to increase quality maturity, rollout the SQCP (Schindler Quality Champion Program)

SWOT investigations, monitor organizational setup and initiate changes
Top Claim Extermination
Monitor Claim Cycle Time for field operations

Liaise with plant manager, head of Supply Chain, R&D, Purchasing, and Field management for problem solving activities

Cooperate with the Field Operation on quality issue with high visibility (e.g., breakdown of installation in important public building, VIP stuck in an elevator etc.) and interacts with all required stakeholders for swift resolution

Report progress to management quarterly (e.g., steering Committees and SPQRs)
New Product development and CCQL Projects
Ensure that all new products are developed and released and that the respective milestone deliverables defined in the Q-plan are available on time and in the agreed quality.

Ensure that CCQL originated within the US are processed with compliance to the agreed quality gates and implemented without affecting quality. Coordinate CCQL quality relevant risk assessment
Quality Loops, Supplier Evaluation and ISO9001
Monitor supplier performance and drive escalation within US supply chain

Ensure supplier performance according to target setting and lead interdisciplinary teams in case of deviations

Ensure US operations get certified on the new ISO9001-2015
Communication/collaboration
Manage relevant stakeholders & multiplicators and guide the escalation / decision making process

Mentor/develop future leaders as well as functional expertise and ensure excellent leadership behavior.
Your Experience
Master complex leadership situations to convince the stakeholders with full range of available information and arguments.

Understand the Schindler quality and Supply Chain requirements and the current implementation status which is applied by suppliers.

Excellent people management skills with supervisors, stakeholders and multiplicators as well as the exertion of decision-makers.

Ability to enhance creativity in co-workers and at the same time ensure fulfilment of quality requirements.

Detailed knowledge and competent assessment of the following quality tools and processes:
Quality related laws, norms & regulation

PCP process

Schindler Supplier Selection & Qualification processes,

PRR, PPAP, FMEA, SQA/SCA SPSP, MPC,

Drawing norms, 5S, Lean Manufacturing, ISO9001, 5 Quality Loops tools

System & Process Audit experience, and manufacturing organizational skills.

Excellent skills in working in a cross functional multinational environment are highly necessary.

Degree in Engineering or similar education
Our Commitment
To Your Future: Fully-vested 401k match (up to 7% of total compensation)
To Your Health: Competitive Medical, Dental and Vision Plans - All benefits effective from first day of hire
To Your Wellness: Generous Paid Time Off (All employees start with 3 weeks of vacation which then increases with tenure in addition to sick days, floating holidays and 8 Company Observed Holidays)
To Your Education: Tuition Reimbursement (Eligible after 6 months of service)
To Your Family: Parental Leave – 100% base pay for 6 consecutive weeks within first year of a child's birth or adoption. Partnership with Maven Milk to ship breast milk for employees traveling on Schindler business
Will you join us and elevate tomorrow's World?
We look forward to receiving your complete online application.
For questions, please contact Stewart Andrew Esterbrook, (+1) 8623861687
At Schindler Group we value inclusion and diversity, and practice equity to create equal opportunities for all. We endeavor that all qualified applicants will receive consideration for employment without regard to age, race, ethnic background, color, religious affiliation, union affiliation, gender, gender identity, sexual orientation, marital status, national origin, nationality, genetics and health, disability or veteran status.
If you would like assistance with the application process for this position, please contact the recruiter highlighted above who will be happy to help.
br>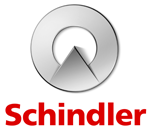 Apply now »